BaT- or BaD-man, the Joker King in Starry (K)Nights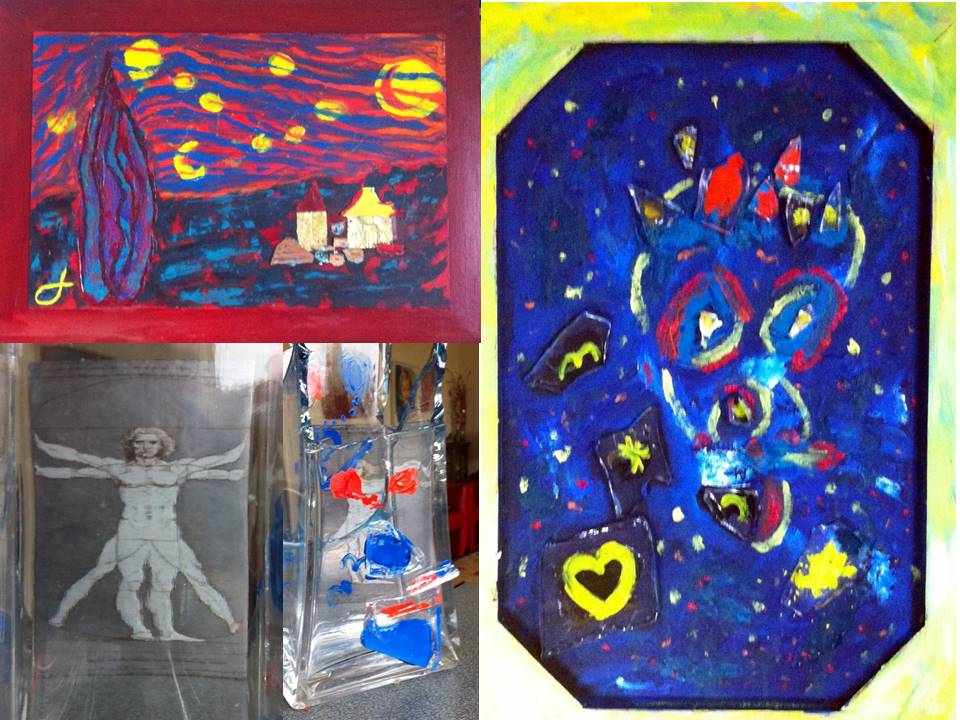 I made the first part "Starry Night" (inspired by the masterpiece of Van Gogh) in 2015 as a contribution to the 21rst birthday party theme of my youngest daughter. Left upper corner. I decided to  use the rear site in 2018 for what became a new Starry (K)Night: The good knight is surprisingly the Joker, who got a very bad reputation due to the Batman movies, in which the Joker is a monstruous crook. On the contrary, the Joker (or Fool if you are familiar with Tarot) makes aware by joking and happens to be also the most powerful card of the deck (in Tarot the fool is also closely linked to the Emperor). The Joker can transform a card game. In essence, the Old World (our current ego, power and money based system). Mankind can make a restart returning to the story of the Apple in Genesis and reconsider what is truely Good and Evil. In fact, listen much more to women like Eve and share and eat the Apple!  Eve was not wrong at all. She did not get the credits for knowing Good and Evil. To understand the true sins and consistent action will give us a one way ticket to Paradise. For example: the sin of tobacco, alcohol, the destructive power of money, soft drinks. Our old "good" dark hero BaTman may not be as good (BaD-man) after all and is transformed into an evil smoking transparant BAD-man.(see glass artwork above)! Formule 1 Max Verstappen may appear to many people a hero but on close inspection he is just an ordinary pusher of destructive Red Bull. 
Coincidence is a major contributing factor in my art work. I often get some "help", guidance from above? The orange painting 4=1= All for One Paradise (2018) on my homepage below stood in my living room and slipped crashing a vase yielding a "Batman" shape and the subsequent association to the Joker. (Similar story for "The Snake talks to the Beast"). Some of the remaining glass pieces were also used to create the true Starry Knight: The Joker and even the suggestion of the Joker King (the fusion of the Fool and the Emperor in Tarot, to complete the global Awareness/Christmas puzzle.